The 2022/23 academic year marks 10 years since the original pilot of Risk-Avert was completed in Essex. From this original pilot of 8 schools, developed the programme we see today.
Risk-Avert is now delivered by schools across the UK and has been proven to improve outcomes for young people. 
To mark this occasion we have produced the infographic below which highlights the scale of Risk-Avert over the past decade and provides statistics on the successes of the programme.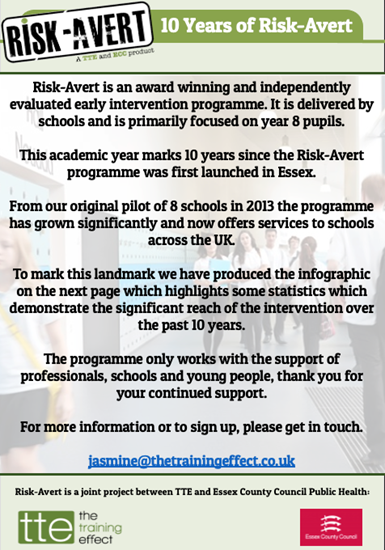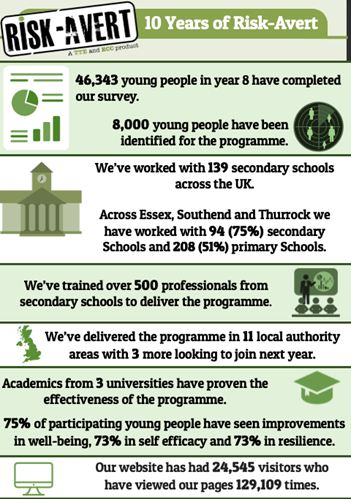 The infographic is also available to download as a PDF, feel free to share this with anyone who may be interested in it. 
You can download the infographic here.  
(Schools can continue to access the summer safety resources below if required)
Secondary Resources
The videos below provide lesson content for each session
They should be delivered in conjunction with the relevant supporting document
The video will prompt you to pause the video and complete the activity using the information in the supporting document
Session 1 - Content Overview

Risks we may encounter over the summer
Why that may be the case
Will this summer be different?

Session 2 - Content Overview

Influence of friends and peers
Consent in all its forms, not just sexual consent
Positive and negative peer influence

Session 3 - Content Overview

How do we know if something is risky 
Skills to identify risky and unsafe situations
Summer Safety Plan

Click here to download supporting document for the session
Primary Resources
The videos below provide lesson content for each session
They should be delivered in conjunction with the relevant supporting document
The video will prompt you to pause the video and complete the activity using the information in the supporting document
Session 1 - Content Overview

What do we mean by risk?
How can we tell if something is risky?

Session 2 - Content Overview

How our feelings can help us stay safe
My own feelings that help me stay safe

Session 3 - Content Overview

Influence of our friends and peers
Summer Safety Plan